ZTS Mini Multi-Battery Tester-High quality battery load test device
Patented high accuracy Pulse Load test device. Gives accurate reading of remaining capacity. ZTS Mini-MBT tests alkaline 9v, aa, aaa, 3v lithium 123 and more.
Which to choose? Battery load tester vs. battery volt tester?
The ZTS Mini Multi-Battery Tester (Mini-MBT) provides a simple battery load test to test the state of charge or state of power on many popular battery types (alkaline, lithium, rechargeable). The Mini-MBT is not just a AA battery tester or 9V battery tester, it tests more than 15 battery types:
1.2v NiMH/NiCd rechargeable (AA, AAA, C, D)
1.5v alkaline (AA, AAA, C, D)
3v photo lithium (CR123, CR2)
3.6V Li-Ion (18500, 17650, 18650, RCR123A)
9v alkaline, carbon zinc

4 AAA batteries are included with the tester.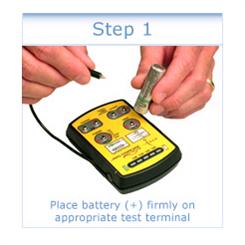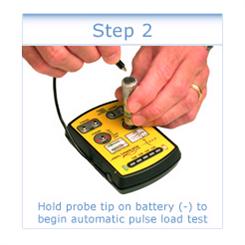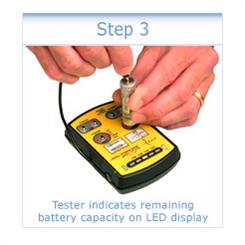 Using a patented, high accuracy pulse load test, the Mini-MBT indicates the percentage of remaining battery capacity on the LED bar display.

Battery types are clearly labeled – 9V battery tester contact, AA battery tester contact, etc. The negative test lead/probe stores in a seam at the side for easy storage. The ZTS Mini-MBT is convenient, simple, and the battery load test results are easy to understand.

Mini-MBT Battery Load Test Device Specs & Features:
No need for a 9V battery tester, AA battery tester, or other individual battery testers - computes the State of Charge (SOC) for more than 15 battery types
Determines battery capacity under load – not just voltage – giving an accurate reading of the remaining battery capacity
Saves money – know which batteries are still useable and the remaining capacity
Made in the U.S.A. Patents 6,823,274 and D515444
| | |
| --- | --- |
| Power (Internal) | 4 AAA batteries (included) |
| Display | 5 LEDs (green, yellow, red) |
| Pulse Load | Magnitude varies according to battery type |
| Test Duration | Approximately 2 seconds |
| Contact Terminals | Nickel-plated brass for high conductivity and durability |
| Test Lead | Flexible, high strand-count 18AWG plastic coated, kinkless lead wire |
| Package Weight (lbs) | 3 oz. |
| Dimensions | 4"(H) x 2.5"(W) x 3.75"(D) |
More Information

| | |
| --- | --- |
| SKU | MZTTS000472 |
| Manufacturer Product Number | MINI-MBT |
| Power (Internal) | 4 AAA batteries |
| Display | 5 LEDs (green, yellow, red) |
| Test Duration | Approximately 2 seconds |
| Test Lead | Flexible, high strand-count 18AWG plastic coated, kinkless lead wire |
| Contact Terminals | Nickel-plated brass for high conductivity and durability |
| Dimensions | 4"(H) x 2.5"(W) x 3.75"(D) |
| Pulse Load | Magnitude varies according to battery type |